South Africa's most loved DJ has once again reached another major high point in his career. The highly acclaimed DJ/producer Black Coffee has been awarded once again in Europe, France along with the ever popular David Guetta.
READ: Black Coffee Sells Out Brooklyn Event in New York
Black Coffee whose real name is Nkosinathi Maphumulo and David Guetta received the Clubbing TV award for the Best Deep House Music Video for hit track Drive, in which he featured David Guetta and Delilah Montagu.
The aim of this award is to celebrate the best house music and deep house music videos. The winners were made public on the 23 March 2019 in a special show that was aired on Clubbing TV channel.
Listen: Black Coffee & David Guetta – Drive (feat. Delilah Montagu) [Remixes] EP
The producer's award recently landed in Johannesburg and Black Coffee took the opportunity to share the award by posting a picture on social media.
One in the bag for #Drive" Music Video wt @davidguetta @delilahmontagu1 #clubtvawards #france pic.twitter.com/SpDgTqS09Z

— Black Coffee (@RealBlackCoffee) April 3, 2019
Young South Africans are very proud of Black Coffee and look up to him. He is a major source of inspiration and we all love him.
Congratulations once again.
When is Black Coffee Playing Again – Black Coffee Upcoming Events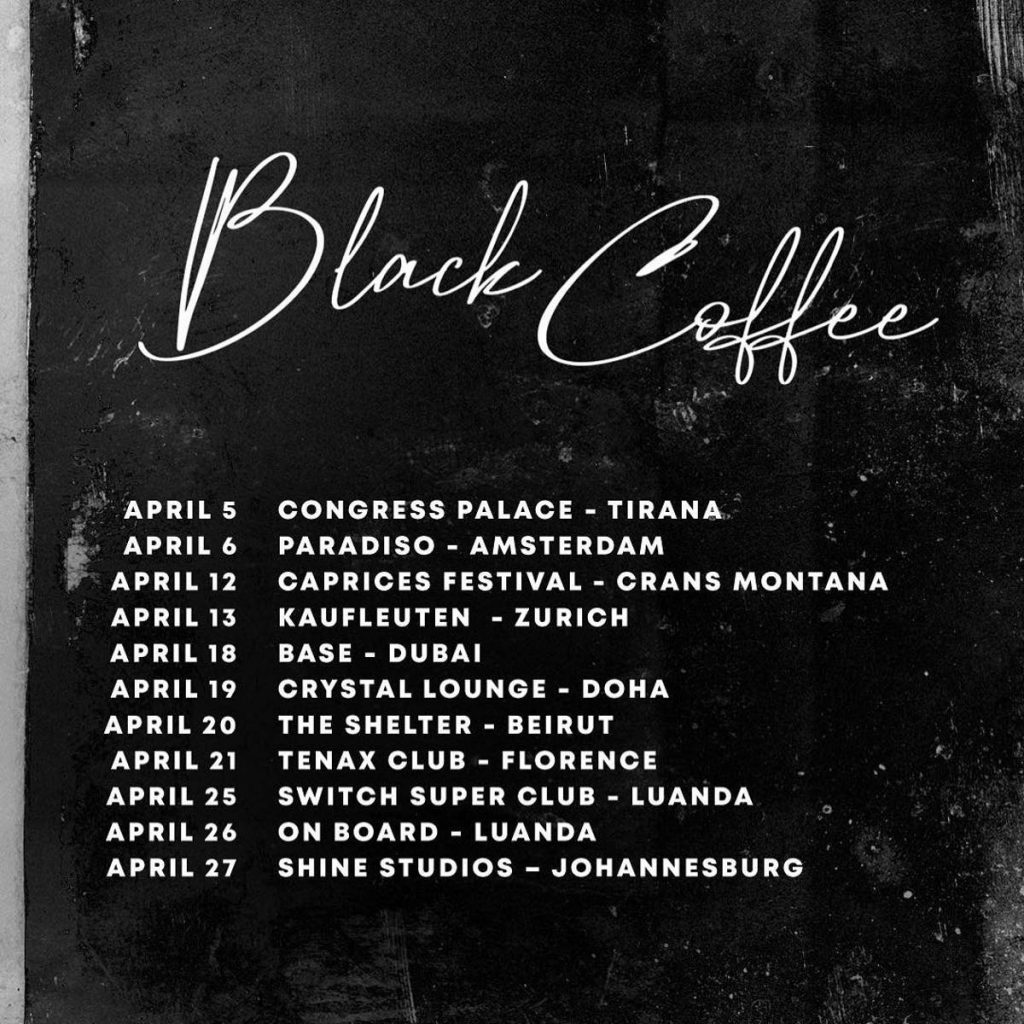 APR 6 2019
A Night By.. Black Coffee (uitverkocht / sold out)
Sat 11:59 PM · 4,189 guests
Paradiso Amsterdam
Amsterdam, North Holland, Netherlands
APR 11 2019
Caprices Festival 2019
Apr 11 – Apr 14 · 16,255 guests
Crans Montana
Crans-sur-sierre, Valais, Switzerland
APR 13 2019
Inception pres. Black Coffee (75% SOLD OUT)
Sat 10 PM · 4,237 guests
Kaufleuten Club
Zürich, Canton of Zürich, Switzerland
APR 21 2019
Tenax Nobody's Perfect! — Easter Party with Black Coffee
Sun 10:30 PM · 1,477 guests
Tenax
Florence, Tuscany, Italy
MAY 5 2019
Domenica 5 Maggio | Black Coffee at Arenile di Bagnoli
Sun 3:30 PM · 4,167 guests
Arenile di Bagnoli
Naples, Campania, Italy
MAY 10 2019
Black Coffee – Brooklyn Mirage Opening Event | SOLD OUT
Fri 10 PM EDT · 9,659 guests
The Brooklyn Mirage
New York, NY
MAY 11 2019
Black Coffee at Concord Music Hall
Sat 9 PM CDT · 2,458 guests
Concord Music Hall
Chicago, IL
MAY 24 2019
Black Coffee à L'Olympia • 24 May 2019
Fri 11 PM · 4,974 guests
L'Olympia
Paris, Ile-de-France, France
MAY 27 2019
Black Coffee with Sam Haze at The Everleigh
Mon 10 PM EDT · 42 guests
JUN 15 2019
Boarding to Family Piknik 2019
Sat 5 PM · 6,658 guests
Aéroport Montpellier Méditerranée
Mauguio, Languedoc-Roussillon, France